About The Extensionist
We love to make your hair dreams come true by the
art of hair extensions applied with passion and care
There is just something about long flowing locks cascading like a waterfall down someone's back. We have all been there, lusting after someone else's long hair while walking behind them or putting pictures of celebrities with luscious long locks up on our walls as inspiration while carefully brushing our own less than red carpet worthy hair.
Perhaps you have been waiting endlessly for your hair to grow past that awkward stage of "on the shoulder" where it has seemed to be for the last year. Or maybe you have spent hours trying to get your hair to look thicker with products and tools only to find that like Cinderella's transformation, it has disappeared by midnight and gone back to flat. ​
Once available only to the rich and famous, hair extensions have since become widely attainable to everybody, and you too can make your hair grow as if by magic in as little as an hour. Whether it is dangerous lengths, massive volume or just a bit of change you are dreaming off - The Extensionist can make all your hair dreams come true and bring that star quality to the masses.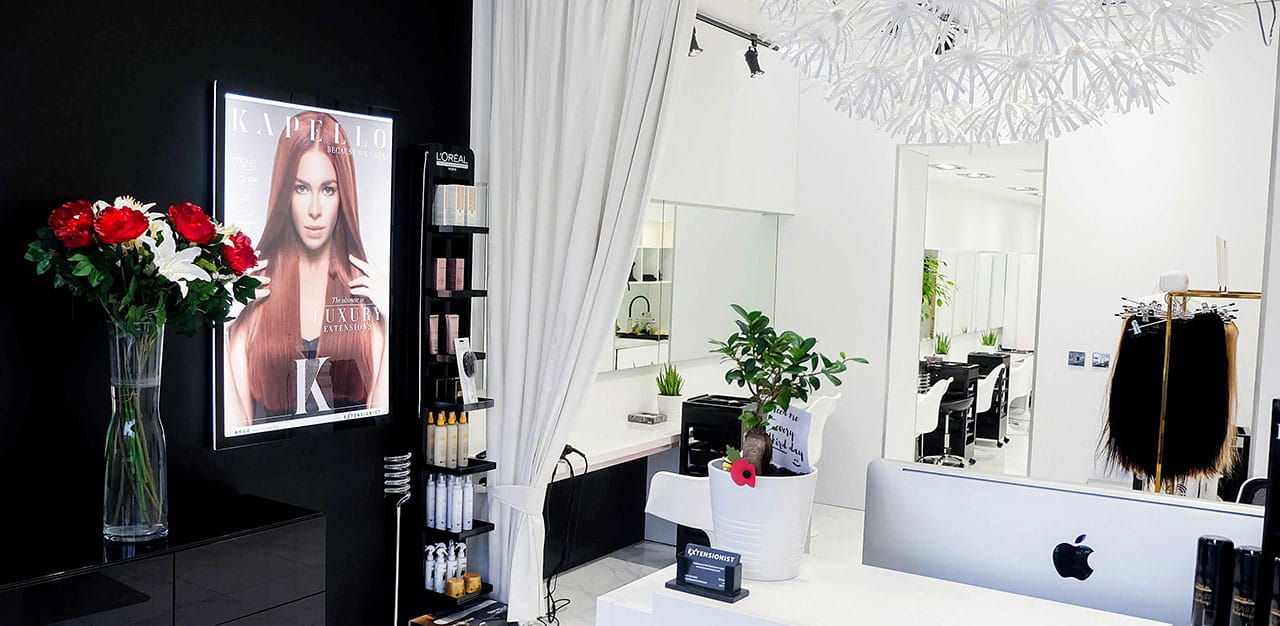 Years of experience
16
Number of FULL HEADS INSTALLED
7000+
Due to the popularity of hair extensions in recent years, many salons in the UK have started to offer hair extensions as part of their service menu, but there are only a few that can be called "Hair Extension specialist salons". Unlike many of the hairdressing salons that offer hair extensions, The Extensionist is a dedicated specialist in the application and aftercare of professionally applied hair extensions London.
The Extensionist specialises only in expertly applied, beautiful hair extensions for those who want the best quality hair and application by an experienced technician. ​ Hair extensions are all we do, every day, and therefore we have become experts on the subject! As we are a hair extensions specialist salon, we only work with the best suppliers of high-quality human hair and offer you a range of Hair Extensions fitting methods and know how to achieve the result you want. We have been doing this for over 16 years, and our favourite feeling is that moment when we show our clients their before and after picture, and they can be amazed at the transformation. ​
The Extensionist does not claim to be the cheapest. But unlike many hair extensionists that offer low-grade human hair and don't tailor the application to your particular needs, we offer a luxury service using only the finest quality 100% human hair extensions, expert colour matching, a safe application and natural looking results tailored to your needs and hair. Therefore, you can be sure that you will walk away with the most beautiful and natural looking hair extensions.
We guarantee you will want to "whip your hair back and forth" as you leave the salon. At The Extensionist we provide luxury, custom tailored hair extensions, using only the very finest, hand-picked natural human Slavic and European hair. We pride ourselves on our unique personal touch, attention to detail and outstanding customer service.