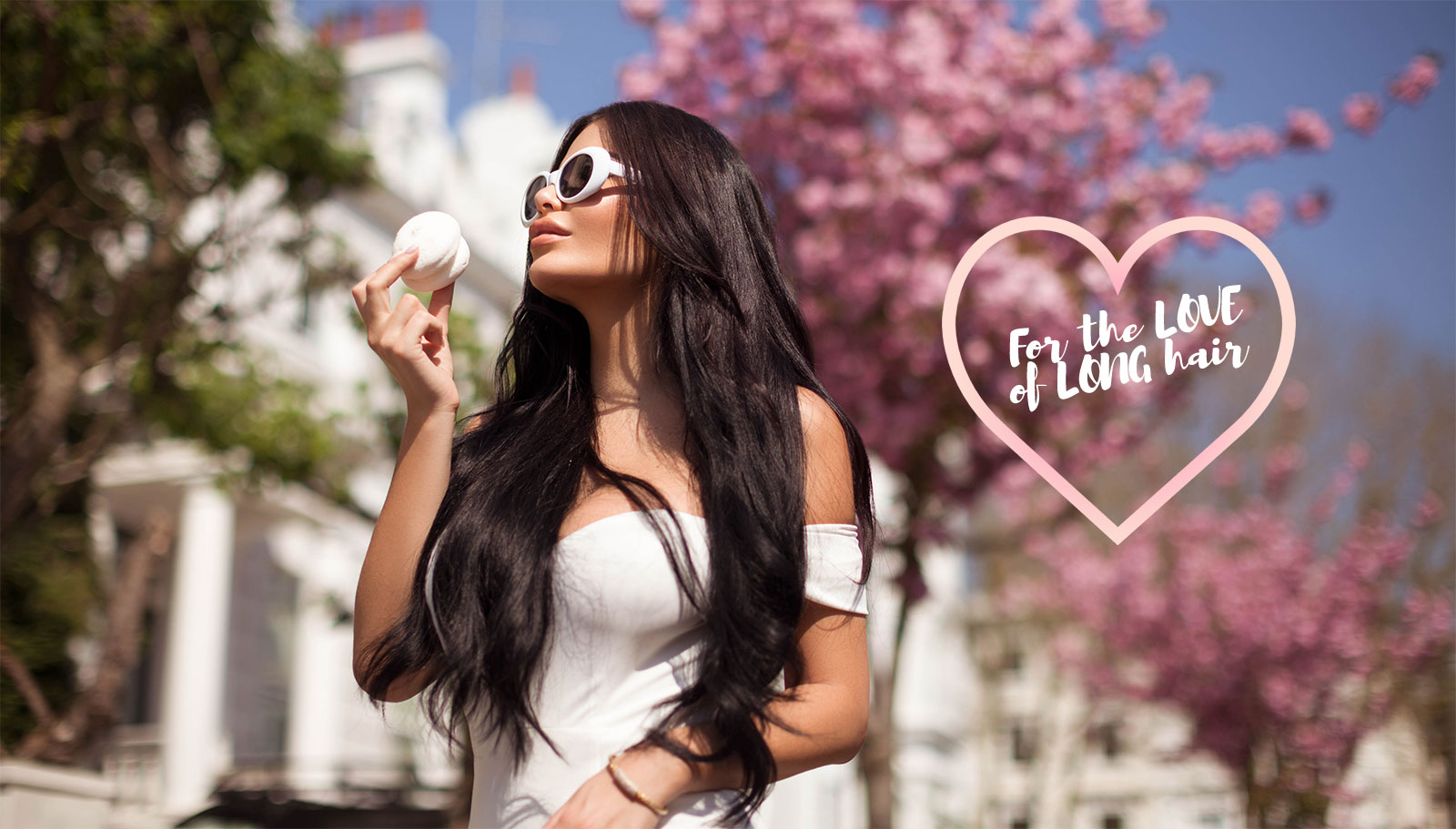 Hair extensions guide
Your guide to getting the hair you always dreamed of!
So you are intrigued by the wonderful world of hair extensions, and it has brought you here. You might want to add volume to your limp and lifeless hair or lengthen hair that won't grow past a certain point. The world of extensions can seem confusing to some, and it is hard to know what method, type of hair and amount that you require.
All hair that we use at The Extensionist is of superior quality and sourced very carefully. While the different types of hair vary in texture and longevity, all of our hair is cuticle correct, 100% human hair, which means it can be treated just like your hair. All of our hair is also double drawn; this means each bundle of hair contains only hairs of the same length, and all the shorter hairs are removed.
Due to the superior quality of our hair you can re-use it if you have taken care of it properly, bringing the overall cost down.​ Use our handy hair extension chooser to find what is right for you.
A free consultation at The Extensionist is a great way to find out whether hair extensions are right for you and what method suits you best. In the meantime use this handy diagram to find what choice is right for you!
Slavic VIRGIN HAIR
Slavic hair is considered to be the creme de la creme of the hair extension world, and our Slavic hair genuinely proves that it is true. Just like our European hair, we have travelled far and wide in order to procure the best possible hair.
All our hair is 100% cuticle correct Remy hair and our Slavic hair is also double drawn ensuring thickness from root to tip. Our Slavic hair is of exceptional quality and is durable yet fine at the same time.
Genetic as well as environmental factors contribute to this hair being of fantastic quality. It is very soft and shiny and stayed looking beautiful though many installations.
Months hair last
16
Average cost for a full head
£550
BRAZILIAN HAIR
Brazilian hair is extremely shiny, durable and remains that way wash after wash. Brazilian hair comes in various textures such as wavy and curly and can, therefore, be used to match and compliment any texture. They have a natural look to them even when just air dried, and Brazilian hair extensions tend to hold their curls much more than any other hair.
Brazilian hair is one of the most beautiful types of hair in the world. It is known for its full body, bounce, texture and versatility. It is also very soft and smooth to the touch.
We ensure you will not be disappointed in our Brazilian hair is it doesn't knot, tangle or shed and is a great way to lengthen your hair and add volume!
Months hair last
14
Average cost for a full head
£600
European Hair
European hair extensions are our most popular option as they are the perfect answer to those who have naturally fine hair and that are looking to add volume and length without making her hair look too bulky. Like our Indian hair, our European hair is also Remy and 100% cuticle correct.
Our European hair is second to none, and we have spent years trying to source the best possible hair that stays looking amazing for a long time. Our European hair is silky soft, shiny and retains it's bounce and vitality for a long time with the correct care and can be re-installed many times while still maintaining its beauty.
All our European hair extensions are double drawn which means the extensions are beautifully thick root to tip giving a full finish without looking bulky.
Months hair last
9
Average cost for a full head
£490 14 Inches - Just above bra strap
16 Inches - On bra strap
18 Inches - Below bra strap
20 Inches - Waist length
22 Inches - Below waist
MICRO RING HAIR EXTENSIONS
You may also know these types of hair extensions as easy ring extensions, and they have become incredibly popular over recent years. The attraction is that they're quick and straightforward yet look fantastic! The best micro rings hair extensions use human hair strands held together with a bond which is pulled through a micro ring and then pushed shut to secure the hair in place.
This is gentle yet highly secure meaning that you won't damage your hair or scalp but also won't have to ever worry about hair falling out of place or messing around with heat and glues. They feel very flat on your head and comfortable.
2 hours to apply a full head
3 Months it lasts in hair
TAPE IN HAIR EXTENSIONS
Tape in hair extensions are one of the newest and most exciting developments within the hair extension industry. Celebrities and glamorous folk alike are turning to this method to get long flowing locks. What is great about this method is that it is quick to apply, you can fit in a lot of hair even in fine hair, and it lies very flat.
This method involves sandwiching your hair between two strips of tape hair extensions and pressing them together. Removal is , and you can re-use the hair over and over again as long as you have taken care of it.
1 hours to apply a full head
2 Months it lasts in hair
PRE-BONDED HAIR EXTENSIONS
Pre-bonded hair extensions are incredibly popular and consist of applying individual hairs that are bonded together at the ends by a keratin protein glue into a strand. The pre-bonded hair extensions are then melted by a fusion iron or fusion heat wand which then connects to individual sections of your hair or for those who want to stay away from the heat we also do cold fusion which takes slightly longer but is very secure.
The bond is as small as a grain of rice and see-through. This helps to create a seamless blending of the hair extensions with your natural hair, ensuring that nobody needs to know that you are wearing hair extensions at all!

2 hours to apply a full head
3 Months it lasts in hair
How much hair do you need?
"I WANT REALLY LONG HAIR"
We recommend a Full Head for everyone that wants to add a lot of length to their natural hair
"MY HAIR IS LONG BUT LACKS VOLUME"
You need a 3/4 HEAD or HALF HEAD as you don't require as much length but just volume.
"MY HAIR IS SHORT BUT THICK"
You need a FULL HEAD in order to blend the line of your natural hair.
"I LIKE MY HAIR SHORT, BUT IT LACKS VOLUME"
You need a HALF HEAD or 3/4 HEAD in order to add extra volume.
Now head over to our price list to find out how much your dream hair is!
Price List