Laser hair treatment
"Stop worrying about the hair you lost
– start looking forward to the hair you can have!"
It's not just hair, is it? We have learnt through doing this for so many years, that we have a sort of identity attached to our hair and it makes us who we are in certain ways.
We get a haircut for a new job, a break-up or to signal a change in our life - it's a way of showing our style and identity. We are the "girl with the long blond hair" or "the redhead" - it becomes a part of us. We have had clients who call their new hair their "cape" and they are back to being the superwoman with the confidence their new hair gives them.
Here at The Extensionist hair extensions London salon we have helped thousands of women find confidence and get their dream hair through the help of hair extensions. We have helped models, stay at home mums, transgender women, beauty queens, celebrities and many many more.
However, one thing that we take the most pride in and love to do is helping women or men who are struggling with various illnesses and conditions affecting their hair growth to regain their confidence through their hair.
Changes in the body, alopecia, cancer treatments and other hormonal and medical conditions can affect healthy hair growth either permanently or temporarily. It is not always that we can offer hair extensions until their hair has grown past a certain point, but we at The Extensionist hate to turn people away and want to help everyone get their dream hair. Hair loss for women can be an extremely stressful experience, and we want to help you ease this stress.
Therefore, we are now delighted to introduce two new hair replacement systems in the salon that offers solutions for everyone to acquire the hair they always dreamed of.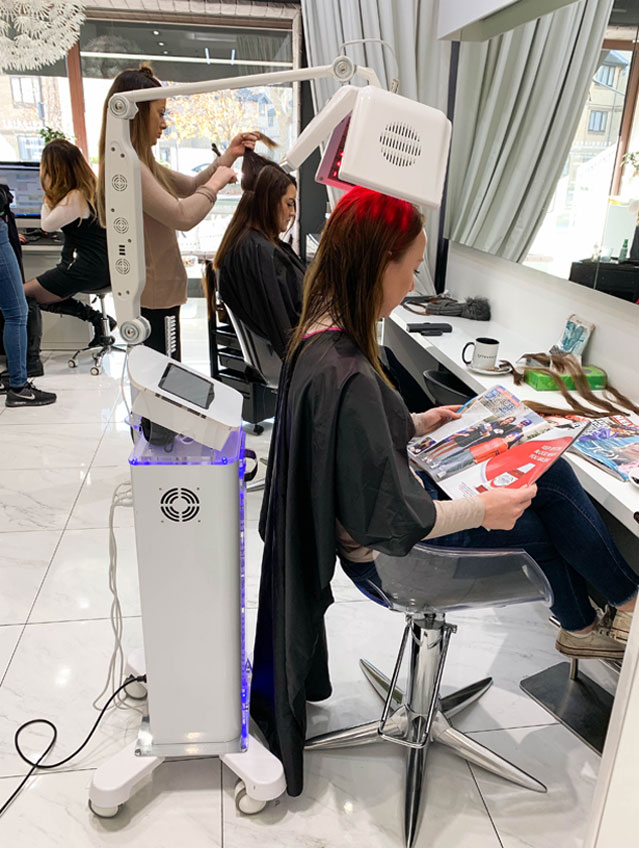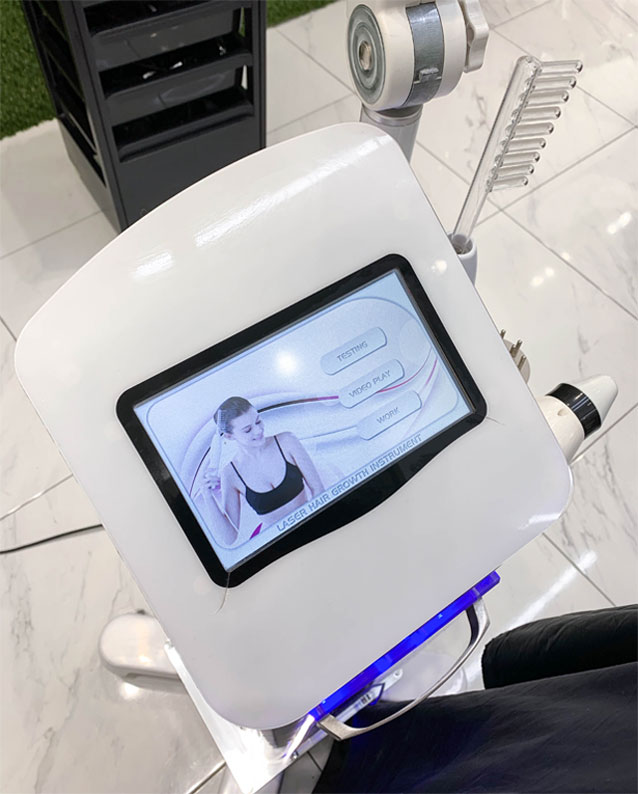 Laser Hair Therapy is for thinning hair loss. Laser hair therapy uses Low Level Laser Therapy or LLLT for short to regrow your hair using a scientifically proven and FDA approved laser spectrum.
But what that does that mean you ask? Think of the LLLT as a form of superhero who fights the main culprit of hairloss - Dihydrotestosterone (DHT). DHT causes inflammation of the hair follicles which causes them to miniaturise and eventually die leading to hairloss. .The laser breaks down, clears and removes DHT from the scalp.
Not only that, LLLT hair loss therapy also prevents any future DHT to attach to the hair follicle preventing future hair loss too.
LLLT gives the best result when done over the course of several months but even just one session improves blood flow tot he scalp by 50% and can be used as a boost in between hair extensions.
WHO DOES LASER THERAPY HELP?
Male Pattern Baldness (Androgenic Alopecia)
Female Pattern Baldness (Female Pattern Alopecia)
Alopecia Areata
Traction Alopecia
Stress Related Alopecia
Thinning Hair
Damaged or Broken Hair
Seborrheic Dermatitis
Psoriasis
Itchy/scaling scalp
Pre and post transplantation procedures
PHYSIOLOGICAL BENEFITS
Improves blood microcirculation to the follicle
Increases the nutrient acquisition by the follicle
Increases the rate of removal of harmful 5-alpha reductase (enzyme) and DHT
Increases oxygen uptake
Decreases follicular inflammation
CELLULAR BENEFITS
Improves cellular metabolism and protein synthesis
Increases the production of ATP (Adenosine Triphosphate - 'energy transporter') to energize & repair the weakened follicle
Increases cellular stimulation of the follicle
Increases the mobilization of calcium ions
SKINVISABLE HAIR REPLACEMENT
We are extremely excited to offer the SKINVISABLE Hair Replacement System. For those women who have lost their hair due to changes in the body, alopecia, cancer treatments and other hormonal and medical conditions can affect normal hair growth either permanently or temporarily this is a perfect option.
We offer partial and full hair replacement systems in 45 different colours so we can make sure to find a colour that suits you. We offer temporary or semi-permanent solutions depending on your needs.
They are made form 100% Human Hair just like our extensions and offer a solution for those suffering of partial or full baldness or if their hair is too short for our other hair extension methods. Skinvisible is the ultimate stretchable wig and hairline solution ideal for alopecia or those undergoing chemotherapy treatments. The fine Swiss hairline disappears into the scalp with human hairs expertly implanted to recreate the look of naturally growing hair.
Versatile and stretchable, Skinvisible moves with the natural contours of your scalp. It moulds to your head shape without wrinkling or creating bumps and creases. You'll forget you're wearing Skinvisible and no-one will ever know but you!
When you book in for a consultation and decide that this is something for you, we take your measurements and your SKINVISABLE Hair Replacement System is made custom especially for you.